- Others - Physik Instrumente (PI) GmbH & Co. KG
Fast, Powerful and Durable: New Piezo Walking Drive – Nanometer Precision Positioning in Industrial Applications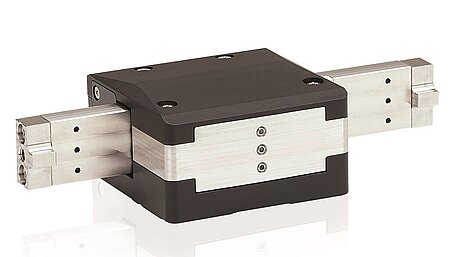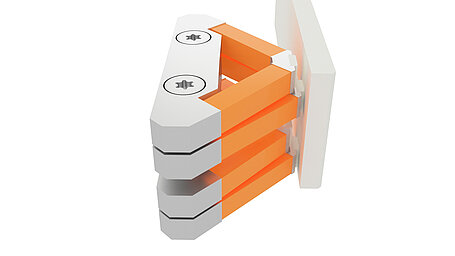 PICMA® actuators aligned in the shape of a V ensure a reliable and very exact feed motion with a holding force of at least 60 N, 50 N push/pull force, and a velocity up to 15 mm/s. Loads up to 5 kg can then be positioned with exact nanometer precision. Runner lengths are variable between 25 and 100 mm. The reliable liftoff behavior of the actuators in conjunction with exactly matched flexure guides guarantees a long lifetime. During field tests, the value specified in the datasheet of 30 km for the travel path was exceeded by more than threefold. Because of the modular design of the drives, it is possible to adapt them to customer-specific requirements quickly and inexpensively.
The new walking drives combine the already familiar walking principle of the NexLine® and NEXACT® drives with the high reliability of the standard PICMA® actuator series.
PICMA® actuators have all-ceramic insulation and are therefore superior to conventional, nonceramic insulated actuators both in performance and lifetime. The ceramic insulation layer protects the monolithic piezoceramic block against humidity, and failure due to increased leakage current, and therefore achieves high motion cycles under extreme ambient conditions. In contrast to electric motorized drives, there are no rotating parts or friction. The piezo actuators are therefore free of backlash, maintenance, and wear.
More information about the technology:
More information about N-331:
About PI (Physik Instrumente)
Well-known for the high quality of its products, PI (Physik Instrumente) is one of the leading players in the global market for precision positioning technology. PI has been developing and manufacturing standard and OEM products with piezo or motor drives for 40 years. In addition to four locations in Germany, the PI Group is represented internationally by fifteen sales and service subsidiaries. www.pi.ws
Downloads
Others
Press information kit - N-331