- Products - Physik Instrumente (PI) GmbH & Co. KG
Compact Controller - Inexpensive and Powerful: Smoother Running for Fast Stepper Motors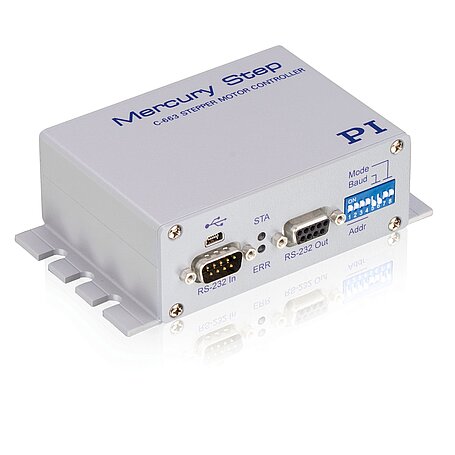 Once again, PI (Physik Instrumente) sets new standards with the new C-663.12 single-axis controller for 2-phase stepper motors. Thanks to the closed servo loop, the closed-loop stepper motor controller combines the advantages of both a stepper motor drive and a servo motor. This rules out any problems caused by step loss or overheating of the motor. At the same time, the resolution of 2048 microsteps ensures low motor vibration and good position resolution. The high supply voltage of 48 V and maximum 2.5 A per phase means that plenty of energy is available for the motor; it can run very fast.
In addition, there are further features that are very convincing in practice: Up to 16 controllers can be networked with each other via USB or RS-232 and operated from the same computer. The easily understandable GCS programming language allows macros to be defined that the controller can then process independently.
It also includes an integrated data recorder, which allows you to read monitoring and diagnostics data at any time, and a USB interface for easy communication with a laptop or PC. Alternatively, an RS-232 interface simplifies integration into industrial applications.
Each controller is supplied with a wide-range-input power supply, RS-232 and USB cable, and extensive software so that it can be started up quickly and easily.
More information about C-663.12:
C-663.12 Mercury Step Stepper Motor Controller
About PI (Physik Instrumente)
Well-known for the high quality of its products, PI (Physik Instrumente) is one of the leading players in the global market for precision positioning technology. PI has been developing and manufacturing standard and OEM products with piezo or motor drives for 40 years. In addition to four locations in Germany, the PI Group is represented internationally by fifteen sales and service subsidiaries. www.pi.ws
Downloads
Others
Press information kit - C-663