A collaborative effort
There are many world-class open source microscopy projects that deliver groundbreaking imaging capabilities to researchers, particularly those looking at 3D and 4D imaging, or single molecules. The collaborative nature of open source microscopy means that the knowledge and details of these set-ups – including all of the components that have been used – can be shared globally, whether it is information on the cameras, laser manufacturers or positioning systems. This provides researchers with the necessary tools to build their own microscope systems, enabling them to produce high quality data, and potentially saving both time and money by using tried and tested software, hardware designs and components.
Open source microscopy also provides a platform to share new applications of innovative microscope set-ups, that can be built in several locations around the world, accelerating deployment of novel techniques and enabling the progression of scientific research.
The complexities of building a microscope
When building a complex microscope system, developers must consider many components, including specific lasers, motion control and positioning of objectives and samples, as well as software for image acquisition and analysis. And, for each of these, there are multiple questions, for example, which algorithms to use during analysis, or the advantages of a piezo drive over a magnetic drive for precise nanopositioning. Knowledge of the available options and expertise in their application is key to creating a successful system with the necessary resolution.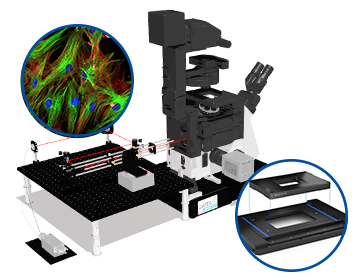 The experts at PI work across the sciences, and can demonstrate how correct positioning in your microscope system can make all the difference. We help researchers around the globe to integrate high quality motion and positioning systems into their research, providing reproducible results and enabling innovative techniques such as 3D, 4D, light sheet and total internal reflection fluorescence (TIRF) microscopy. We go through every user's application in detail, including what they need the system to do and what they need their output to look like, and then we work backwards to help them devise a system or stage specification. It's incredibly important that all components – from different manufacturers – within the system work together, and our knowledge helps us to ensure that this is the case, preventing researchers from spending months troubleshooting before they can begin using their set-up.

Supporting light sheet microscopy projects
Some of the most complex examples of open source light sheet microscopy in recent years have benefitted from using PI components, including both the Flamingo and the IsoView projects. The Flamingo project – developed by Professor Dr. Jan Huisken and his team at Morgridge Institute for Research – was supported by several sponsors so that unique modular microscopes could be available free of charge to researchers in their own laboratories. Reliability and precision of these modules was key, and the high precision, fast movements, and compact size of the drives, together with high quality production standards and services from PI, were crucial. Similarly, the IsoView – developed by Philip Keller and his research team at the Janelia Research Campus of the Howard Hughes Medical Institute in Ashburn – used several PI components, including PIHera positioners to control the microscope's four objectives, each of which can simultaneously illuminate the sample and image the emitted fluorescent light. This motion system – based on all-ceramic PICMA® piezo actuators – is of great importance for the structure of the microscope, ensuring that movement is measured directly at the motion platform without any influence from the drive or guide elements.
Building a flexible solution
In reality, the design of an open source microscope is never really finished but is an iterative process of building upon techniques and ideas that the researcher wants to explore. A perfect example of this is the mesoSPIM initiative, another open source light sheet microscope, this time used for imaging cleared tissue for 3D reconstruction. This project is on its fifth iteration of the microscope, which can now achieve higher resolution using better performance positioning stages from PI to overcome instability during imaging. A flexible design from the outset has made sure that there was a clear upgrade and inspiration path, and has allowed PI to support the project through its advancements over the different versions of the design. Our experience allows us to make sure that microscope developers have considered this flexibility early on in the process, to prevent them running into trouble further down the line if they want to improve resolution or change techniques.
Downloads
Brochure
Microscope Stage Configurator
Sample Stages and Holders for Inverted Microscopes
Version / Date
BRO70E R3D
Brochure
Nanopositioning for Microscopy
Fast, Compact, to the Nanometer
Version / Date
BRO28E R5D
Version / Date
BRO28CN 2018-12