- Products - Physik Instrumente (PI) GmbH & Co. KG
Redesigned Range of Compact, Piezo-Based Objective Positioning Systems. Focus on: High Dynamics, Large Travel Ranges, and Improved Usability.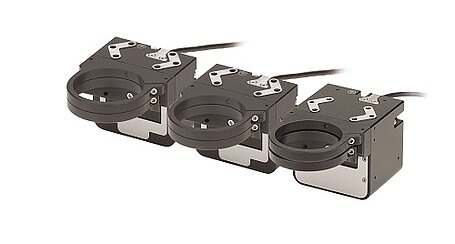 At the heart of the new PIFOC® portfolio are three systems that differ in their travel ranges: 100 µm, 400 µm, or 800 µm. Thanks to a few constructional changes, such as optimized levers and steel mounts, major improvements of the dynamic properties could be achieved. Additionally, for the first time a vertical positioner with an 800 µm travel range is also available.
Simplified Handling
The handling of the PIFOCs was also optimized. The new clamp ring only puts slight restrictions on the original focus displacement in the Z direction of the focus knob. For a lower number of variants, the largest possible diameter was chosen for the aperture. A set of adapter rings makes it easy to screw in different objectives of a size of up to M34.
Small Bending Radii of the Cables and Improved Strain Relief
The rotation, which is repeatedly carried out at the revolving nosepiece when changing the magnification, puts mechanical strain on the signal and current carrying cable. A new sheathing of the cable now makes much tighter bending radii possible; the new strain relief reliably prevents damage of the cable entry at the PIFOC® housing.
All new PIFOCs have been equipped with D-sub connectors as a standard and are so compatible with PI digital controllers. ID chips are integrated into the connectors. These store the servo and linearization parameters determined during calibration. The autocalibration function uses this data each time the controller is switched on. In this way, the overall system does not have to be recalibrated when one single PIFOC or controller is exchanged.
Overview: Essential Features
Model
Characteristic
Travel Range (closed loop)
Step&Settle (10% step. 1% error band, @ 150 g load)
Resonant Frequency (@ 150 g load)
Minimum Incremental Motion
P-725.1CDE2

100 µm

14 ms

290 Hz

1 nm
P-725.4CDE2

400 µm

22 ms

175 Hz

4 nm
P-725.8CDE2

800 µm

39 ms

110 Hz

5 nm
PI in Brief
PI (Physik Instrumente), headquartered in Karlsruhe, is the market and technology leader for high-precision positioning technology and piezo applications in the semiconductor industry, life sciences, photonics, and in industrial automation. In close cooperation with customers from all over the world and for 50 years now, PI's approximately 1,300 specialists have been pushing, again and again, the boundaries of what is technically possible and developing standardized as well as customized solutions from the ground up. More than 350 granted and pending patents underline the company's claim to its leadership. PI has seven production sites and 15 sales and service offices in Europe, North America, and Asia.
Downloads
Others
Press information kit – P-725 new